Reading Karate Club Instructors
The instructors at the Reading Karate club are insured through Insure4Sport and registered with England Wado Kai. Amongst our instructors are qualified First Aiders, as is the Club Secretary who also holds a child protection certificate in sport. All adult instructors and the club secretary have had CRB checks.
SInce October 2006 the club instructor has been Rob Barrett (2nd Dan, Black Belt).
The senior instructor for the association is Sensei Barry Wilkinson (8th Dan, Black Belt).
Rob Barrett

In April 2000 Rob agreed to start karate training during a night out with old university friend, Richard Moore. Sensei Moore had recently taken on the Wokingham Karate Club and was keen to increase the number of members. After being reminded of his promise the next day, Rob had his very first karate lesson the following Friday and after a few weeks was hooked, grading for his 8th Kyu (Yellow) later that year.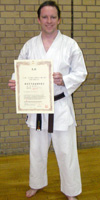 At the start of 2001 Rob started additional training at Bracknell under Sensei Jannet Bowden achieving 7th Kyu in March that year.
Following a move to West Reading, Rob started training at the Reading Wado Dojo under Sensei Marcus Bowden, achieving 6th Kyu (Green) in December 2001, 5th Kyu (Blue) in March 2002 and 4th Kyu in December 2002.
In the summer of 2003 Rob started regular training at Thatcham Karate Club under Sensei Paul Knight and continued training there until 2012.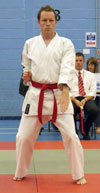 After Sensei Marcus left the Reading Club, Rob continued to train, being taught by Senseis Barry Wilkinson and Russel Kenyon; achieving 3rd Kyu (junior brown) in December 2004, 2nd Kyu (middle brown) in December 2005 and 1st Kyu (senior brown) in March 2007.
In October 2006 Rob took on the role of instructing at Reading Wado Karate Club along with Carl Spiller and Rebecca Moreland.
In 2008 Rob started regular training at Aldershot Karate Club, under Sensei Barry Wilkinson.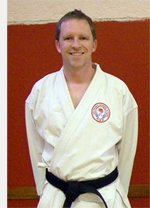 In May 2009 Rob was awarded the black belt grade of Shodan, following an assessment at the 2009 England Wado-Kai Karate Summer Course, the biggest event of the England Wado-Kai Calendar. The grading panel consisted of Sensei Sensei Barry Wilkinson, Sensei Sir Brian Hayes CBE QPM, Sensei Paul Hibberd and Sensei Mark Hibberd.
In May 2014 Rob was awarded the black belt grade of Nidan (Second Dan), following an assessment by Sensei Barry Wilkinson, Sensei Sir Brian Hayes CBE QPM and Sensei Andy Dare at the 2014 England Wado-Kai Karate Summer Course.
Currently Rob is instructing at Reading Karate Club and is continuing his training to develop his karate with regular training under the associations Chief Instructor.

When he isn't karate training, Rob runs his own business as a graphic/ web designer and spends his spare time participating in, and coaching, white-water kayaking with the Adventure Dolphin Centre in Pangbourne as a Coach Level 3 (kayak).
Rob is a qualified first aider (Royal Berkshire Ambulance Service Trained) and has been CRB checked. He has also completed a Safeguarding Children, Child Protection Course accredited by Wokingham Borough Council, West Berkshire District Council, NHS Berkshire West and Reading Borough Council.
Rob is registered with England Wado Kai.