Carl Spiller
Carl Spiller started karate at the age of 6 in 1998 where he used to train under Sensei Marcus Bowden at the South Reading Leisure Centre on Wednesday nights.

He passed his first belt (yellow) in July 2000, orange in 2001, green in 2002, blue in 2003, purple in 2004, junior brown in 2004, middle and senior brown in 2005. In 2004 when Carl became a purple grade and more senior he progressed to training 3 times a week.
In 2005 Carl was awarded the Reading Wado-Kai Club's Student of the Year Trophy.

In May 2006 Carl passed his black belt grading achieving a highly respectable 79% in the written paper. Carl also received private tuition from Sensei Russell Kenyon to which he will be eternally grateful. He is now one of the youngest Black Belts in the country for this style of karate and most definitely the youngest in Reading.
The driving force behind Carl wanting to do karate is that it is a good way of keeping fit. Also Carl's older brother used to train in Wado Ryu, also obtaining his black belt, but unfortunately not training anymore. Carl wanted to go that one step further and better his brother, which he has now achieved.
In July 2006 Carl was selected along with 3 other boys for the unique opportunity to go to school and train in Japan for 2 weeks by Sensei Barry Wilkinson. Carl travelled to Japan in September 2006 and he returned with a wealth of knowledge, a keener eye and much sharper techniques.
Carl enjoyed living the Japanese life and the experience so much that he is now busy saving to repeat the trip in the summer of 2008 with his friend Stephen Woods who went with him. This time he would like to experience more of the Japanese culture as well as visiting his host family and sensei Haru.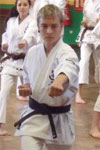 He has represented England in the art of Kata in Tipton May 2005, 2006 and 2007, Belfast Feb 2005, Feb 2006 and was selected to do so again Feb 2007, but this time also in kumite, and Bristol 2007. His tally of trophies and medals won include 3 gold and 3 silver medals and a bronze. In October 2006 Carl was selected for the England squad competing in Luxembourg. Carl has also appeared on television and has been in the newspapers several times.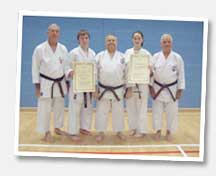 In May 2010 Carl was awarded the prestigious black belt grade of Nidan, following an assessment at the 2010 England Wado-Kai Karate Summer Course, the biggest event of the England Wado-Kai Calendar.
His other interests are playing football on Sundays (karate permitting) for Shinfield Rangers. Carl is also the team captain for his football team.